Visibly Remove Or Reduce Signs Of Aging
With SoRadiant, You Get Instant Results While Achieving Permanent Changes
Instant Results In Minutes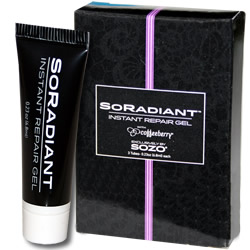 Learn More
Restore & Repair Over Time
Learn More







SOZO SoRadiant Skincare With CoffeeBerry
Nothing Works Faster Or Better To Remove Wrinkles, Lines or Bags
2 products that handle all types of skin problem areas or issues you may have on your face. The real reason why there is two instead of one is because the Instance Repair Gel actually works in minutes and last all day. The Anti-Aging Serum takes days or weeks, but helps restore and rejuvenate your skin. Both products contain CoffeeBerry, the most potent anti-oxidant that helps your skin cells bring back their youthful appearance.
Learn More About SoRadiant
( Click Links Below )
Natural Healthy Skin
Your skin's natural antixodants decline with age and cells get damaged as you get older. To help repair the damaged skin cells, SOZO created a skincare serum that contains CoffeeBerry® that provides a natural healing process for the skin. SoRadiant is a revolutionary anti-aging system that helps your skin look younger:
Tight, Smooth Skin
Extremely Absorbent
Powerful Antioxidants
Improve Skin Tone And Texture
Remove Lines, Puffiness And Darkness/Redness
Instant Results! In less than 3 minutes. No need for fillers, needles, appointments, over-night patches, face lifts or waiting for days, weeks or months. This amazing product will smooth out your wrinkles, lines or bags in just minutes and last all day long. Just put a little gel on your finger and tab lightly over targeted areas. Smooth on a very thin layer in one brisk sweep over your skin where you want it tightened up. This is faster, better and cheaper than botox.
Instant Wrinkle Remover 
Have you ever wanted your lines, wrinkles or any trouble areas to just be gone? As of September 20, 2014, your wish can now come true. Introducing SOZO's newest product for the SoRadiant Skincare line: Instant Repair Gel. You have never seen a product work quite like this. Your family and friends will say, "OMG", as soon as the gel is applied to your skin. Yes, it's that amazing!!